Put your affiliate program on autopilot, while giving you the benefit of complete control!
Add2it AffiliateCenter Pro is a multilingual affiliate program script with no size limitations that allows affiliates to signup and sell your products or services without any work from you.
This is a great way to increase your product and service sales!
The exact same script used for the Add2it Affiliate Program and the Add2you Members Program. Allows commission payments up to 12 levels deep. Width can be unlimited wide or forced matrix. Admin can setup up to 12 membership levels that can have different commission pay-out per product and a different replicated web site.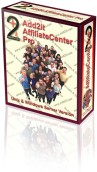 Add2it AffiliateCenter Pro
For complete details on Add2it AffiliateCenter Pro, please click here!