There is no doubt, being able to follow up with your prospects & customers is the single most important ability you absolutely need to have as an Internet Marketers.
There are several services out there that promise to do that for you… Aweber & GetResponse being the two most known services.
Now, those two got major competition. A few days ago I was able to look in detail into a new autoresponder service that's available. So what does that tell you about the state of play of the existing services?
If all was lightness and good then new services wouldn't stand a chance and wouldn't even bother starting up.
The fact is, of the #1 and #2 AR services out there, they both have some major disadvantages.
That's the voice of many people who have expressed an opinion in their favorite marketing forums.
I personally use what's recognized as the #1 service – Aweber – but I've not been happy with what they have done a while ago.
Yes, they've added new features, but at a very hefty price tag. The features just aren't good enough to warrant that additional price.
As a result, many new customers have signed up with the #2 – GetResponse – who have introduced new features, but then disappointed everybody as they don't work.
Of course there is the alternative of using self-hosted autoresponder script like e.g. Add2it MailResponder Pro for the use with niche sites, but if you are like me running sites with an average daily email volume of over 1,000,000 emails, then you start looking for services providers that can take load of your server.
Also, while self-hosted autoresponder scripts are a great, low cost way to get started (one-time fee instead of monthly service fees), at some point you outgrow those solutions. If you are e.g. on a shared web server and want to email more then 30,000 emails a day, you either need to upgrade to a dedicated server or switch to a service provider.
Imagine my delight when when one of my long time buddies, Richelo Killian, surprises me with "Hey! Have you seen my new autoresponder service?"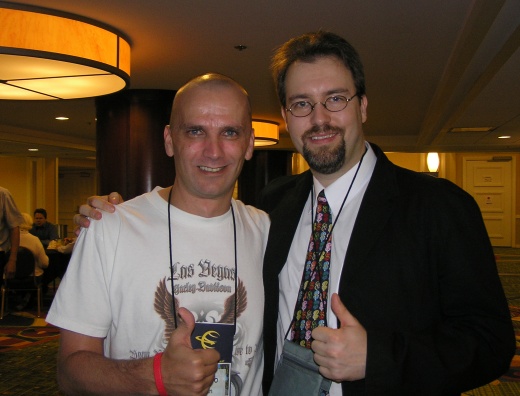 Meeting with Richelo Killian… the brain behind Imnica Mail
After having spent some time looking at it, I think it's damn near just what I've been looking for. But most important to me is it's got something other services don't have.
An API.
API stands for "Application Programmers Interface" and it means third party software can communicate with the service to do things like move people from subscribers lists to customers lists automatically, without them having to do a thing.
It also has simple "Web Service Integration", where if people sign up to one of your lists, the web service will send a message via http: to any script you specify.
The web service and the API open up a whole new era for people like you and me, and you can expect to see a lot of scripts take advantage of that.
For example, you could offer free access to a membership site as long as people stayed on a particular list. If they unsubscribe, then they lose access. That's the deal you have with them.
They receive promotional emails from you, and in return you give them free content. The commissions you earn from your promotional efforts pay for the time it takes you to create the free content.
That sounds like a pretty cool deal to me from both sides of the fence.
It has all the other standard stuff like unlimited lists, unlimited AutoResponders, OUTSTANDING deliverability and support, open tracking, click tracking, AMAZING reporting, and the list just goes on, and on!
I'm already signed up and I'll gradually be moving all my lists across to the new service.
If you're unhappy with your current service, or you're looking for a low cost, high deliverability modern autoresponder then I recommend you give Imnica Mail a go!
'Whatever the mind can conceive and believe… it can achieve.'
Napoleon Hill, Think & Grow Rich
To your success,
Director of Add2it.com Marketing Pty Ltd
Co-founder of ViralURL.com & ViralHosts.com